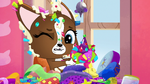 "Well it started out as... and then it sorta changed into a... at this point I don't really know."

This article is a stub. You can help Littlest Pet Shop: A Wiki of Our Own by expanding it.
Scoot Racoonerson is a raccoon who works at the carnival as a phony fortune teller.
Biography
Scoot had a history of loitering around a house whose owner fed their dog on their porch, stealing its food. Knowing it would harm the dog if eaten, Scoot ate an old onion which had fallen out of the trash, to save the dog. The dog's owner said that he was glad he was never able to trap Scoot and drive him out to the country. Even though he isn't actually a pet, that got him into Paw-Tucket.
Appearances